Planning / commissioning engineer for electrical engineering or control systems (m/f/d)
Be part of exciting new build and service projects
Code number 1415
Job location: worldwide
INP International Projects is an independent service provider for process control engineering, automation systems, power technology, machine and welding technology, thermal process engineering as well as construction and infrastructure projects. We are a reliable partner for the energy sector and the industry, independent of any manufacturer, solving problems for over 30 years all over the world. We employ more than 500 engineers at our locations in Germany, Switzerland, Austria, USA, South Africa, France, Brazil, Canada, Mexico, Egypt, Croatia and the UK.
Our success is based on the commitment and expertise of our staff. For our sustained economic growth, we engage committed and highly motivated professionals and team players:
Your tasks
Implementation of projects in hardware and software engineering
Commissioning, service and optimization of systems
Your qualifications
University degree in engineering specializing in electrical engineering, control systems or automation systems
Knowledge in one of the following control systems: ABB Advant AC 160/450, 800xA, Procontrol P13/14, Siemens Teleperm TXP, PCS7, Simadyn, Alstom Alspa P 320
Good spoken and written command of the English language
French language skills are an asset
What we offer
Comprehensive support during period of vocational adjustment
Excellent working atmosphere
holiday and Christmas bonuses
Flexible working hours (flexitime)
30 days of paid annual vacation
Good training opportunities
Job security
Would you like to contribute to our company's success with your skills? If so, we look forward to receive your application in English or German language via web-form (righthand column - Apply now) quoting the reference code.
Points of contact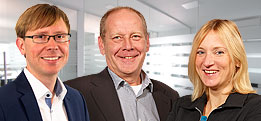 Frederik Weyer, Norbert Nicklas & Silke Schütt
INP Deutschland GmbH
Werkstraße 5
67354 Römerberg
Germany
Tel. +49 6232 6869-850

References
Now, you can discover exciting projects and references from the world of INP International Projects.
__Berufserfahrene__

_Berufserfahrene_

_E-MSR_ _Baustellen-, Montage- und Inbetriebnahmemanagement_